We're celebrating! Cathexis is thrilled to have renewed our company's B Corp® status this year—and we improved our B Corp score.
Cathexis has always been deeply committed to our progressive values. We put purpose before profit, strive to make a positive impact, and prioritize learning so that we can improve.
Our B Corp status demonstrates that we run our business in a way that meets the highest standards of social and environmental performance, public transparency, and accountability.
When we discovered the B Corp movement several years ago, we joined a growing private-sector movement that believes business can be a force for good in the world. We feel at home in this global network of like-minded companies who acknowledge the way business was done in the past often caused harm to the world. The B Corp network is committed to doing business differently.
If you've never taken note of B Corps before, you can find a whole directory of Canadian B Corps and B Corps worldwide.
How we've improved our B Corp score
We've worked hard to improve our B Corp score, and it shows.
Our B Corp score rates our performance across several areas:
Governance
Workers
Community
Environment
Customers
A business must score at least 80 points (out of a maximum of 200) to be eligible for B Corp certification.
We improved our score from 99.9 in 2019 (when we were first certified) to 118.6 in 2022. Here's how we did it.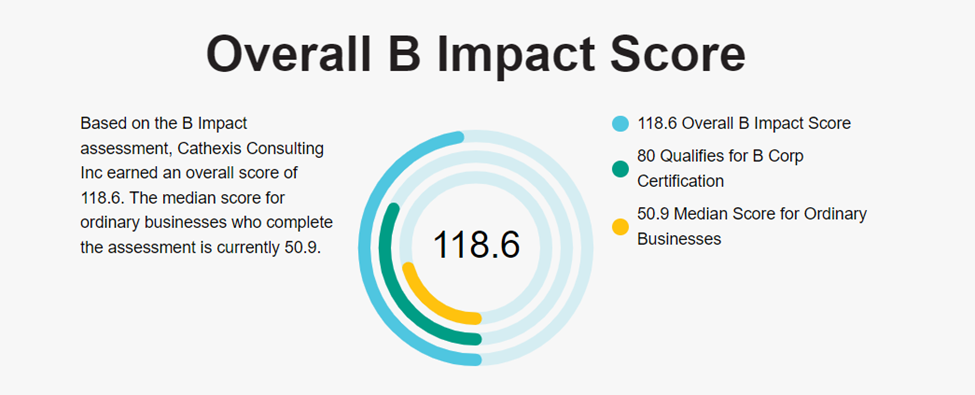 Governance
One of the biggest changes we made was amending our corporate governing documents. We are now legally bound to our commitment to require consideration of all stakeholders in corporate decision-making.
Why does this matter? This allows us to protect our mission and ensure that Cathexis continues to be governed in the best interests of our stakeholders—workers, our community, customers, suppliers, and the environment—even if our leadership changes.
Workers
We made our biggest gains in this area when we re-certified:
We introduced a group benefits plan that provides employees with access to disability and critical illness coverage, accident insurance, life insurance, and extended health and dental coverage. At the time of our initial certification, we didn't offer group benefits because we couldn't find a plan that was affordable for a small business like ours. Since then, we discovered the Chambers group plan, offered by Chambers of Commerce and Boards of Trade across Canada. We now have access to the benefits of a large, pooled group insurance plan that includes employees from other small businesses.
We reviewed and standardized our onboarding process for new staff so we can better meet their needs.
We formalized our professional development support, defining and supporting a process for achieving specific learning goals every 6 six months.
In response to COVID, we offered more flexible employment (allowing staff greater flexibility in where, how, and how much they work).
As always, we continue to ensure pay is at or above a living wage in Ontario in all positions and at all levels.
Community
We committed to regular charitable giving (at least 1% of company profit). Our team decides where to donate. Most recently, we made an annual giving commitment to the Toronto Native Women's Resource Centre and renewed our commitment to monthly contributions to RAVEN Trust. We make annual donations based on participation in our client satisfaction survey ($5 per survey completed).
Our recruitment processes and job postings now state our commitment to diversity, equity, and inclusion.
We planned (and engaged in) structured and unstructured learning for National Day of Truth & Reconciliation 2022.
Environment
As a professional services organization, we don't have a big environmental footprint. Still, we have maintained some things we were already doing well:
We continue to occupy office space in a LEED Gold-certified building. LEED Certification is the most widely used global standard that recognizes buildings that are efficient, cost-effective, and better for occupants and the environment.
More and more, our work is done remotely, which means less travel and fewer emissions. We're adopting more tools to help us work well this way. We also encourage clients to think about ways to do projects remotely to minimize travel (e.g., virtual focus groups and consultations rather than in-person).
Customers
We continue to measure and monitor client satisfaction and outcomes/impacts of our work.
We acquired cyber insurance to help protect us and clients against cyber threats.
We have several Credentialed Evaluators on staff and we continue to support all team members to acquire their Credentialed Evaluator designation, a 3rd party credential of the quality of our work.
What we're working on
Every B Corp has room for improvement, and we're no exception.
Here are some of the things we're working on to make Cathexis an even better business:
We're looking into expanding our benefits to include a parental leave top-up and retirement savings (RRSP) contributions.
We're identifying foundational training for new hires and ongoing training for all staff related to truth and reconciliation and the legacy of colonialism in Canada. Since we became recertified, we have finalized a corporate Reconciliation Action Plan with specific actions to advance our part in reconciliation over the next two years.
We'll be looking into ways to monitor and reduce our environmental impact.
We've received a business grant that's allowing us to explore options for streamlining our project management processes, ultimately resulting in a better experience for clients.
If you're interested in seeking B Corp status or you're working on re-certifying your business, we're happy to lend our advice. Feel free to reach out! 😊