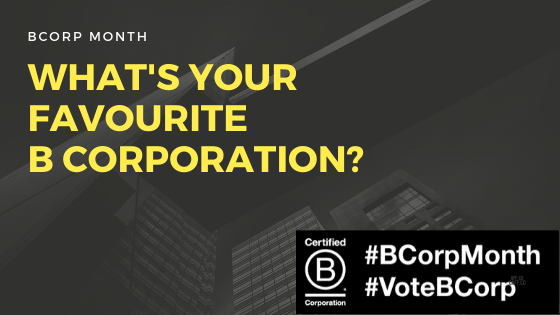 March is B Corp month, so we're dedicating our blog this month to posts all about being a B Corp.
We recently went around the office and asked each staff member: "What's your favourite BCorp or a BCorp you think is doing really cool stuff?" Here's what our team members had to say.
LIZ: Patagonia. I've bought the best gear from Patagonia over the years. My favourite is a backpack/suitcase that fits everything I need for long trips and still qualifies as carry-on baggage for flights. As a B Corp they're trying to limit their ecological impact with goods that last for generations and can be recycled.
KATE: Ozery Bakery. It's more likely than not that I have apple cinnamon snacking rounds from this Vaughan-based company stocked in my pantry. Delish! My pro tip: Toast them!
MELISSA: e180 and their very cool Braindate product, which we have the privilege of evaluating! Also, because I can't be limited to choosing just one BCorp, Tack10 Strategy is doing some cool work to help one of our amazing clients, Food Banks Canada, scale its tax clinics nationally so that people can access tax filing services from food banks. I also love the idea of Intrepid Travel's approach – who knew travel could be carbon-neutral? I haven't had the opportunity to travel with them, but I definitely want to in the future.
ROCHELLE: Eileen Fisher. I love the simple, flattering shapes of their clothes, which are made with natural fibers and last for years. As a B Corp, they are working with suppliers to adopt responsible farming, dyeing, and labour practices.
MEGAN: When I was planning my June wedding in a chapel with no AC, I knew I would need to provide water for my guests, but plastic water bottles were unthinkable. Enter Flow water, a boxed water whose packaging is 100% recyclable and saves emissions because it ships more efficiently. Flow is also careful to plant and maintain native plants that prevent runoff and erosion, monitor their aquifer and water usage, and donate to organizations that reduce plastic waste. They have also worked to reduce their carbon footprint by partnering with other B Corps, like Bullfrog Power. Recently, Flow helped Shawn Mendes to green his latest North American tour!